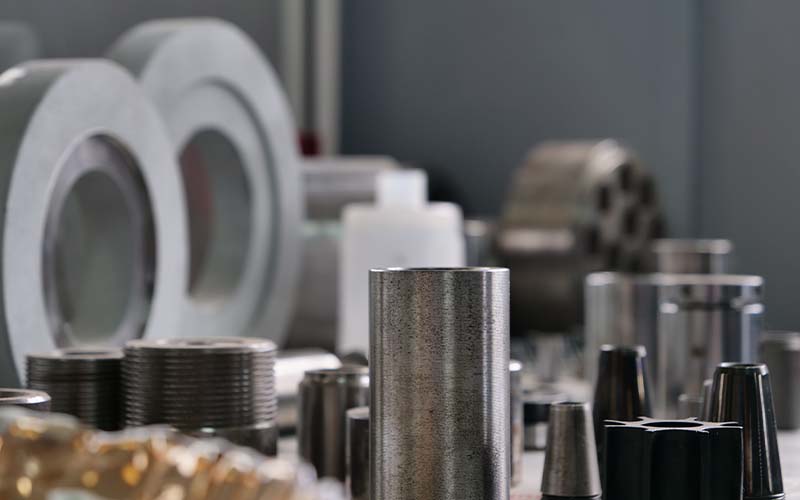 Produce more with consistent dimensional quality
R.O.M Renzi Officine Meccaniche company operates in Spinadesco, in Cremona. Its reference market has always been in the pre and post voltage sector since 1961.
Over time, R.O.M. Renzi Officine Meccaniche has seen significant growth both in its staff, structure, and top quality standards. Roberto Mirenda- Technical Manager and Legal Representative- confirms this evolution. "Our professionalism and commitment are our winning weapon.
Our staff currently consists of eight people: the owner who personally takes care of the research and development of the commercial network, supported by the head of the commercial and administrative office; the technical manager, who has the task of listening to and satisfying all customer requests, customizing, where required, any product. We also pay great attention to the training and professionalism of our production employees, who are constantly up to date with the most innovative procedures and advanced technologies. We also take care of the conformity and quality analysis of the products performed by our staff through a tested and certified control system.
Two outlet markets: geotechnics and prefabrication
The new ownership has led to an important renewal in every sector of the company by introducing a new and modern development philosophy. In recent years R.O.M. Renzi Officine Meccaniche has seen further transformation and evolution, as Roberto Mirenda explains. "The study, the research of materials compliant with international regulations, and the development of new production technologies allow us to guarantee a top-quality standard, providing an efficient and dynamic customer service that makes us at a reference point in international markets.
The range of products of R.O.M. Renzi Officine Meccaniche mainly addresses two distinct markets: geotechnics and prefabrication. The company is currently expanding its horizons also towards the sector related to the production of special parts/flanges for the oil and oil & gas field. Roberto Mirenda explains:
We produce one-use and re-use anchorage grips, plates, and heads, stringing equipment such as hydraulic power units, single and multi-strand jacks, and all related accessories. In addition to standard products always available in stock, we also develop customized solutions based on specific needs.
The wide range of items offered and our tailored solutions lead us to constant reprogramming and retooling of machinery. Customers no longer buy from stock asking for small customized quantities instead. The processes no longer have a long duration, and therefore we must do continuous reprogramming. All our products, both standard and special ones come with a Technical Assessment Certificate issued by the Superior Council of Public Works.
A complete renewal of our machine park
In the last three years, R.O.M. Renzi Officine Meccaniche has been modernized by replacing all the obsolete machinery and equipment with the latest generation models. We currently have robotic cells consisting of a CNC lathe and a vertical machining center equipped with a robot developed to ensure the autonomous production of anchor heads and plates. A specific robotic cell allows us full quality control and the assembly of wedges and robotically modular parts of our production. This is possible only through an optical viewer checking every piece subsequently assembled and laser marked according to the customer's specifics. In the last three years, R.O.M. Renzi Officine Meccaniche has replaced all the obsolete machinery and equipment with the latest generation models.
We started producing our wedges using CMZ turning centers. These parts go directly to cutting and washing and then are sent to heat treatment, without the operator having to manually operate all the steps as before".
We have two CMZ machines: a TA-20-TY-640 numerically controlled lathe and a TA-20TM-640 numerically controlled lathe. "The availability and professionalism of CMZ staff in understanding and proposing solutions suited to our needs, in addition to the excellent quality/price ratio, convinced us to invest in CMZ machines. Therefore, we invested in two machines. These are recent purchases made during the second half of 2019, perfect for our production standards.
The advantages obtained from the CMZ turning centers are numerous, including the production versatility of the machines, whose performance is enhanced by the use of the Fanuc numerical control.
Polygon cutting: an alternative process to milling
Another distinctive element of the TA series, as well as of all CMZ machines, is the possibility of performing polygon cutting. This process allows obtaining planes on the piece through the synchronized rotation of the spindle and the motorized tool. It is an alternative to the milling of each plane separately (more similar to a turning than milling). This process is possible using a specific tool: a disc with several plates. It mounts on a shaft placed on a standard axial motorized tool holder. CMZ manufactures axial motorized tool holders for both spindle and sub-spindle up to 12,000 rpm and with internal cooling (TL20 / 10400/06, TL20 / 10400/08). Specific tool holders are also available for polygon cutting in which the disc is mounted directly without the need to make a shaft.
The number of plates in the disc and the speed between the spindle and the motorized unit create a different number of planes. The process can be carried out both in the main spindle and in the sub-spindle. The planes created using the polygonal cutting technique feature curves with a large radius (here's why it is not suitable for millings with strict plane tolerances). This process suits hexagonal heads of screws and flat wrench anchors. The polygon cutting option is standard in the entire CMZ CNC lathes range featured by a live tool. Lathes do not need to have a Y shaft.
CMZ machines are also equipped with bar loaders to work in unattended mode. This is synonymous with a stable production flow over time. The high rigidity that characterizes the CMZ centers and the rapid movements have allowed us to reduce the cycle time of each product, also increasing the life of the tools.
With CMZ machines, we can produce more, and with constant dimensional quality ". With CMZ systems, R.O.M. Renzi Officine Meccaniche produces a complete range of bushings and wedges that make up anchor grips, small parts, and other components of stringing equipment.
"In the future, we plan to possibly use the machines also in the production of high precision small parts in fields other than the current one, in particular in the oil, oil & gas and water sector", concludes Roberto Mirenda."
High level of customization
The two models of lathes supplied to R.O.M. Renzi Officine Officine Meccaniche come from the TA range, which includes twelve variants of lathes characterized by a high level of customization. According to the specific requests, all models of the TA series are configurable with an automatic servo-controlled tailstock (B axis) (available in standard configuration), driven tools and C axis (M version), driven tools, "C" axis, and + 70 / -50 mm Y axis (Y version), counter spindle (S version) (excluding the 400 mm bed), driven tools, C axis and counter spindle (MS version), C axis driven tools, + 70 / -50 mm Y axis and counter spindle (YS version). Each machine in the TA series features the same construction technology as all CMZ brand machines.
These are rigid turning centers, equipped with monobloc cast iron benches with integral flat, milled guides that have been stabilized in the oven, induction hardened, and ground with hardness from 40 to 50 HRc (accelerations of 1 g and rapid advancement of 30 m / min). The heads have an integrated and cooled spindle motor with coolant recirculation capable of guaranteeing thermal stabilization of the operating temperature (Built-In Motor).
The motor that rotates the driven tools is integrated and cooled with direct drive and inserted directly into the turret body. The maximum rotation speed is 12,000 rpm, while the power in continuous service (S1) is equal to 8.1 kW. The maximum torque that can be reached is 75 Nm. The TA series is governed by the latest generation numerical controls (with nano CNC technology) with accelerations of 1 g and resolution of 0.1 μm.